---
This trademark belongs to my father, and is on the frontpage in loving memory of him.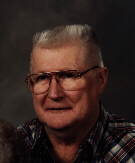 Russell C. Bronson,
March 12, 1923 - May 25, 1994
Dad was born in Litchfield, Minnesota to Harty and Ethel (Markel) Bronson. As a child he moved to Redwood Falls where he attended school. After school, he joined the WPA, working in Montana and western South Dakota. When W.W.II started he served in the United States Army in the European Theater. I had the good fortune to meet the family he was billeted with in Wales while he waited for D-Day. The 'children' (older than me of course) remembered vividly the gifts of canned peaches and sugar that he would bring them during those years of rationing in Europe. After the service he returned to the Redwood Falls area.

On January 13, 1946 he married Jane Iverson in Belview. The couple settled in Redwood Falls where they remained and raised their four children. Dad worked long hard hours during those years, delivering fuel to the area farmers, waste-oil paving dusty drive-ins, managing the Morgan Roller Rink, and even painting signs. Russ, as his friends called him, started out painting skate cases after watching the technique of "Jimmy," a local sign painter of Japanese ancestry. Soon he was doing truck doors, road signs, billboards, and buildings, and eventually opened up a shop down-town. It was there that I served my apprenticeship, learning how to use numerous hand and power tools, gaining confidence in my own abilities.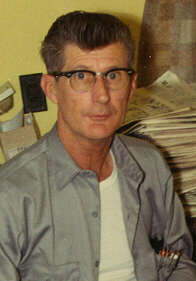 The ~13~ on the frontpage is as close as I can get to the trademark Dad placed on all of his sign work. The perpetual question was, "Is that a 'B' or a '13'?" I don't know if Dad ever did declare it to be one or the other, but I do recall that he married Mom on the 13th.

Long before I left to join the Air Force in the fall of '64, Dad had picked up a new interest. Long haul, Over-the-Road, 18-wheel trucking. Easy work it was not, but I never saw him back away from hard work. When he got tired, it just took him a little longer. He retired in 1983 due to poor health. He was a member of the VFW, loved having a cold one with the guys in North Redwood, and enjoyed the challenge of a tough, vocabulary testing, cross-word puzzle.

Dad passed away at the VA hospital in Minneapolis, Minnesota at the age of 71 Years, 2 months and 13 days..... and .... I miss him.

Posted Father's Day, June 15, 1997